John Henry Mackay
From Anarchopedia
L'article "John Henry Mackay" est une ébauche.

Vous pouvez modifier cet article, en y ajoutant vos connaissances...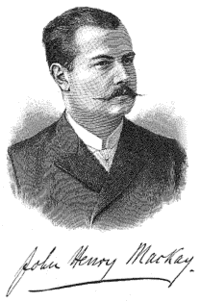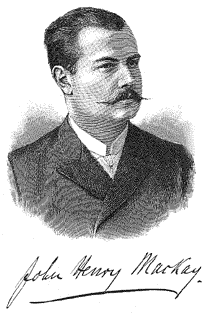 John Henry Mackay (né en 1864 à  Greenock, Royaume-Uni – mort à  Berlin, Allemagne, le 16 mai 1933) était un anarchiste individualiste, écrivain et penseur homosexuel, d'origine écossaise puis naturalisé allemand. On lui doit un travail de redecouverte et la seule biographie de réference sur Max Stirner (Max Stirner – Sein Leben und sein Werk), dont il fait le père de l'individualisme anarchiste. Il est également l'auteur du roman Die Anarchisten (Les Anarchistes, en 1891) et Der Freiheitsucher (Le Chercheur de Liberté, en 1921). Mackay fut publié aux États-Unis dans le journal Liberty de son ami Benjamin Tucker.
Biographie
[
edit
]
Mackay vécut à Berlin à partir de 1896, et devint l'ami du scientifique et co-fondateur de la Gemeinschaft der Eigenen (en français : La communauté des Uniques), Benedict Friedlander.
Mackay mourut à Berlin le 16 mai 1933, dix jours après l'autodafé nazie à l'Institut für Sexualwissenschaft (Institut des Sciences Sexuelles). Adolf Hitler était devenu dictateur deux mois plus tôt, et toutes les activités du mouvement allemand d'émancipation homosexuelle cessa bientôt. Les affirmations selon lesquelles Mackay se serait en fait suicidé ont été contestées :
« Mackay mourut le 16 mai 1933 dans le cabinet de son médecin, à quelques pâtés de maison de chez lui, apparement d'une crise cardiaque. Il souffrait également de caillots dans sa vessie ».
Hubert Kennedy, Anarchist of Love: The Secret Life of John Henry Mackay.
Influence de l'Å"uvre
[
edit
]
Sous le pseudonyme de Sagitta, Mackay écrivit une série de livres défendant la pédérastie[1] portant le nom Die Bücher der namelosen Liebe (Les Livres de l'amour sans nom). Cette série débuta en 1905 et fut complétée en 1913.[2]. Sous le même pseudonyme il publia également des romans, tel que celui traitant de la pédérastie et de la prostitution adolescente masculine à Berlin, Der Puppenjunge (littéralement Le jeune-poupée) en 1926, une œuvre considérée comme réaliste par Christopher Isherwood qui vécut une expérience similaire[3]. Bien que Der Puppenjunge fut vendu sous la République de Weimar, tous les écrits de "Sagitta" furent par la suite interdits par les nazis.
À partir de 1906, les écrits et les théories de Mackay ont une influence significative sur l'organisation d'Adolf Brand Gemeinschaft der Eigenen. Mackay fut également un propagateur de l'œuvre de Max Stirner (1806-1856) en-dehors de l'Allemagne, écrivant une biographie du philosophe qui permettra de mieux comprendre le travail de Friedrich Nietzsche dans le monde anglophone.
Les fameuses chansons de Richard Strauss (Vier Lieder, Op. 27), cadeau de mariage à sa femme, Morgen (en français : Matin ou Demain) et Heimliche Aufforderung (Invitation secrète), sont des poèmes de Mackay parlant de l'amour des jeunes garçons, mis en musique.
Citation
[
edit
]
Ever reviled, accursed, ne'er understood,


Thou art the grisly terror of our age.
"Wreck of all order," cry the multitude,
"Art thou, and war and murder's endless rage."
O, let them cry. To them that ne'er have striven
The truth that lies behind a word to find,
To them the word's right meaning was not given.
They shall continue blind among the blind.
But thou, O word, so clear, so strong, so pure,
Thou sayest all which I for goal have taken.
I give thee to the future! Thine secure
When each at least unto himself shall waken.
Comes it in sunshine? In the tempest's thrill?
I cannot tell - but it the earth shall see!
I am an Anarchist! Wherefore I will


Not rule, and also ruled I will not be !
↑

À ne pas confondre avec la pédophilie ; la pédérastie est une relation homosexuelle masculine entre un adulte et un adolescent.

↑ Richard Strauss and John Henry Mackay par Hubert Kennedy
Bibliographie conseillée
[
edit
]
Lien interne
[
edit
]
Liens externes
[
edit
]
Mackay, John Henry Mackay, John Henry
REDIRECT Modèle:Wikipedia (traduit de l'article anglais et augmenté)