Murray Bookchin
From Anarchopedia
Catégorie:Articles à retravailler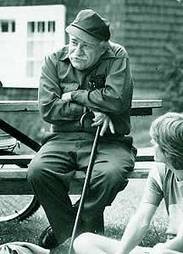 Murray Bookchin (né le 14 janvier 1921 à New York) est un auteur et orateur américain, anarchiste écolo, peu connu en Europe. Il est pourtant considéré aux États-Unis comme l'un des grands penseurs de la nouvelle gauche. Bookchin est le fondateur de l'Écologie sociale, école de pensée qui apporte une nouvelle vision politique et philosophique du rapport entre l'homme et l'environnement.
Il grandit à New York avec ses parents Nathan et Rose (Kaluskaya) Bookchin, immigrants juifs russes et est imprégné de l'idéologie marxiste dès sa jeunesse. Il rejoint l'organisation de jeunesses communistes "Young Pioneers" à l'âge de 9 ans. Il travaille dans les usines et devient organisateur pour le « Congress of Industrial Organizations ». Pendant son adolescence, il se tourne vers le trotskisme en travaillant avec un groupe qui publie le périodique Contemporary Issues, puis, perd peu à peu ses illusions à cause de la coercition qu'il jugeait inhérente au marxisme-léninisme conventionnel. Il devient rapidement connu pour sa facilité à envoyer des critiques dévastatrices au marxisme en utilisant la langue marxiste conventionnelle. Il devient anarchiste et aide à la fondation de la Libertarian League, organisation anarchiste de New York, dans les années 50.
Il commence à enseigner vers la fin des années 60 à la « Free University », une université libre contre-culturelle basée à Manhattan.
Son livre, Our Synthetic Environment, publié sous le pseudonyme Lewis Herber six mois avant la publication de Silent Spring de Rachel Carson, décrit un large éventail de problèmes environnementaux, mais reçoit peu d'attention à cause de sa radicalité politique. Son essai Ecology and Revolutionary Thought introduit l'écologie comme un concept de politique radicale. Durant les années 60, il publie plusieurs autres essais, pionnier dans les idées qu'il avance sur les technologies écologiques. En faisant des conférences à travers les États-unis, il aide à populariser le concept d'écologie dans la contre-culture. Dans son essai largement publié Listen, Marxist!, en 1969, il prévient en vain les membres de la Students for a Democratic Society contre la prise de pouvoir par un groupe de marxistes.
Bookchin est toujours resté un anti-capitaliste radical et un fidèle défenseur de la décentralisation de la société. Son idée de Municipalisme libertaire a eu une influence certaine sur le mouvement écologiste.
Citations
[
edit
]
Écrits
[
edit
]
Liens internes
[
edit
]
Historiens-nes de l'anarchisme

Catégorie:Historien-ne de l'anarchisme
Théoricien-ne-s de l'anarchisme

Catégorie:Théoricien-ne de l'anarchisme
---
Bookchin, Murray