Presse anarchiste
From Anarchopedia
Error creating thumbnail: File missing
L'article "Presse anarchiste" est une ébauche.

Vous pouvez modifier cet article, en y ajoutant vos connaissances...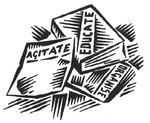 La presse anarchiste devint, très tôt dans l'évolution de l'anarchisme, un mode de communication et de diffusion des idées. Les médias de masse étant inefficace pour diffuser des idées autres, hier comme aujourd'hui, des revues, tout comme des panflets, des affiches, des tracts et des bouquins furent créés. Agitation des masses, dénoncer le crime étatique et religieux, développer les fondements de nouvelles théories et faire la critiques d'autres ; tels sont certains buts que la Presse Anarchiste a su développer. L'impact que la Presse Anarchiste eut plusieurs évênements historiques (que ce soit en millieu syndical, communautaire,
ouvrier
,
étudiant
, etc...) est tout de même important.
La presse anarchiste est censurée en 1894 par les Lois scélérates (qui permettent « l'incrimination de l'opinion anarchiste »). Cette loi du 28 juillet 1894 ayant pour objet de réprimer les menées anarchistes sera abrogée le 23 décembre 1992.
Chronologie non exhaustive de la presse anarchiste
Dates de publication
Titre
Format
Langue
Origine
Membres
1833
The Peaceful Revolutionist
Mensuel
Anglais
Cincinnati, US
Josiah Warren
1845
El Porvenir
Espagnol
Espagne
Édité par Ramón de la Sagra Perís et Antolín Faraldo
1848-1850
Le Peuple
Journal irrégulier
Français
Paris
1850-???
L'Anarchie, journal de l'ordre
Mensuel
Français
France
Anselme Bellegarrigue
1858-1861
Le Libertaire, Journal du mouvement social
Mensuel, 27 n° de 4 pages [1]
Français
New York
Joseph Déjacque,
1868-1869
La Lanterne
Français
Quebec
Arthur Buies (1840-1901)
1872-1878
Bulletin de la Fédération Jurassienne
283 numéros [2]
Français
Suisse
James Guillaume (responsable), P. Brousse, C. Cafiero, B. Hubert, Pierre Kropotkine, G. Lefrançais, Benoit Malon, Paul Robin, A. Schwitzguébel, A. Spichiger
1879-1908
Die Freiheit
Journal
Allemand
Londres (UK), New York City, (US), Allemagne, Suisse
Johann Most
1879-1885
Le Révolté
Journal
Français
Genève, Suisse
Piotr Kropotkine
1880-1881
La Révolution Sociale
Journal
Français
Paris (France)
1881-1908
Liberty
Biweekly newspaper
Anglais
Boston, Massachusetts (US)
1883-1907
Lucifer the Lightbearer
Weekly newspaper
Anglais
Valley Falls, Kansas et Chicago (US)
1885
La Questione sociale
Espagnol
Argentine
Malatesta (participation)
1886-Aujourd'hui
Freedom
Ni hebdomadaire [3]
Anglais
Londres (UK)
1889-1902
Le Père Peinard
Français
Paris
Émile Pouget
1890-1977
Fraye Arbeter Shtime
Tabloid
Yiddish
United States
1891-1893
L'En-dehors
Français
Paris
Zo d'Axa
1892
Le Libertaire
Revue, 10 numéros [4]
Français
Algérie
Jean Faure
1892-1915
1920-1923[1]
Arbeter Fraynd
Journal
Yiddish
Londres (UK)
1893-1897
El Oprimido
Argentine
John O'Dwyer Creaghe
1895-1899
Le Libertaire
Journal
Français
Paris (France)
Louise Michel et Sébastien Faure
1895-1914
Les Temps Nouveaux, fit suite à La Révolte
Revue [5] [6]
Français
France
Jean Grave, Pierre Kropotkine, Elisée Reclus, André Girard, Marc Pierrot
1895-1904
The Firebrand, 1895-1897


Free Society, 1897-1904[2]

Journal
Anglais
San Francisco (US)
1895-1914
Les temps nouveaux
Français
Paris
Jean Grave
1898-Aujourd'hui
Brand
Magazine
Suédois
Malmö (Suède)
1900-1903
1905-1908
Germinal
Journal
Yiddish
Londres (UK)
1900-1940
Le Réveil Anarchiste
Genève, Suisse
7 août 1900-1918
Regeneración
Espagnol
Mexique
Les frères Flores Magón
1901-1911
L'Ère nouvelle
Revue, 56 numéros [7]
Français
France
Marie Kugel et Emile Armand (tendance chrétienne anarchiste)
1903-1918
Cronaca Sovversiva
Journal
Italien
New Jersey (US)
1903-Aujourd'hui
La Protesta
Espagnol
Argentine
G.I. Lafarga, Diego Abad de Santillan
1905
L'anarchie
Hebdomadaire paraissant le jeudi [8]
Français
Paris
Libertad, les soeurs Armandine, Anna Mahé, André Lorulot
1906-1917
Mother Earth
Monthly magazine
Anglais
United States
[[Emma Goldman]
1907-1932
Die Aktion
Weekly periodical
Allemand
Allemagne
1911-1923
Bluestockings Journal
Magazine
Japonais
Japon
1911-Aujourd'hui
Solidaridad Obrera (journal)
Hebdomadaire
Espagnol
Espagne
1916-1917
The Blast
Biweekly magazine
Anglais
San Francisco, Californie (US)
1916
Ce qu'il faut dire
Français
Paris
Sébastien Faure, aidé de Mauricius
1917-1921
Anarkhiia
Weekly newspaper
Russe
Moscou, Russie
1917-1921
Der Ziegelbrenner (The Brickburner)
Allemand
Munich
Ret Marut, B Traven
1920-1922
1945-Aujourd'hui
Umanità Nova
Weekly newspaper
Italien
Italie
1922-1939
L'en dehors
Français
France
Émile Armand
1925-1928
Dielo Truda
 ???
Français
Paris (France)
1925-1939
Plus Loin
Revue [9]
Français
France
Paul Lecoin, Marc Pierrot, Paul Reclus, Marie Goldsmith [3], tendance anti-individualiste
1927-1931
Road to Freedom
Journal
Anglais
New York, (US)
1929-1936
La Revue Anarchiste
Revue mensuelle, 35 numéros [10]
Français
1932-1939
Vanguard
Monthly journal
Anglais
New York City, New York (US)
1937
Catalunya
Journal
Catalan
Catalogne
1944-1945
Ce qu'il faut dire (titre repris)
Français
France
Louis Louvet
1944-1956
Le Libertaire (titre repris)
Hebdomadaire [11]
Français
France
Organe du Mouvement Libertaire, puis de la Fédération Anarchiste et de la Fédération Communiste Libertaire
1945-1956
L'Unique
Revue, 110 numéros [12]
Français
France
Emile Armand
1948-1976
Défense de l'homme
Revue [13]
Français
France
Emile Armand, Louis Lecoin, Louis Dorlet [4]
1954-Aujourd'hui
Le Monde libertaire
Journal [14]
Français
France
Organe de la Fédération anarchiste
1954-1970
Noir et rouge
Revue [15]
Français
France
Groupe Anarchiste d'Action Révolutionnaire, scission issue de la Fédération Communiste Libertaire
1960-1992
Solidarity
Magazine
Anglais
Londres (UK)
1961-1994
Our Generation
Biannual newspaper
Anglais
Montreal (Canada)
1965-1974
Anarchisme et non-violence
33 numéros [16]
Français
France
Étude du pacifisme
1965-1968
Left and Right: A Journal of Libertarian Thought
Journal
Anglais
Etats-unis
1966-1968
Black Mask
Journal
Anglais
New York (US)
1965-Aujourd'hui
Fifth Estate
Quarterly magazine
Anglais
Liberty, Tennessee et Detroit, Michigan (US)
1969-1984
The Libertarian Forum
Journal
Anglais
US
1969-Aujourd'hui
The Match!
Irregular magazine
Anglais
Tucson], Arizona (US)
1970-2006
Black Flag
Annual newspaper
Anglais
Grande Bretagne
1970s-1980s
Black Rose
Magazine [17]
Anglais
Boston, Massachusetts (US)
1974-1978
La Lanterne Noire
Revue [18]
Français
France
anciens membres d'ICO (Information et Correspondance Ouvrière) et de Noir et Rouge
1975-1984
Voz Anarquista
Monthly magazine
Portuguais
Almada (Portugal)
1975-1980
Libero International
Journal
Anglais
Kobe (Japon)
1980-Aujourd'hui
Anarchy: A Journal of Desire Armed
Quarterly magazine
Anglais
Berkeley, California (US)
1980-1990
Iztok
Revue, 20 numéros [19]
Français, éditions en bulgare, russe, polonais, roumain
Berkeley, California (US)
groupe d'exilés des pays de l'Est (Bulgarie, Pologne, Roumanie).
1981-1997
Ideas and Action
Magazine
Anglais
United States
1982
Civil disobedience
Anglais
Montréal
1982
Dissidence
Français
Sainte-Tite, Québec
1983-Aujourd'hui
Class War
Journal
Anglais
Londres (UK)
1983
Bluff
Français-Anglais
Montréal
Réalisé par Gauche libertaire / Left Libertarians
1984
Eleutheromania
Montréal
1984-2004
Counter Information
Biannual
Anglais
Edinburgh (Scotland)
1984-Aujourd'hui
Green Anarchist
Magazine
Anglais
Grande Bretagne
1985-Aujourd'hui
El Libertario
Journal
Espagnol
San Pedro, La Pampa Province (Argentina)
1986-Aujourd'hui
Anarcho-Syndicalist Review
Quarterly
Anglais
United States
1988
The Arousal
Newsletter
Anglais
Pakistan
1988-Aujourd'hui
Slingshot!
Quarterly newspaper
Anglais
Berkeley, California (US)
1988-Aujourd'hui
Organise!
Biannual magazine
Anglais
Great Britain et Irlande
1989-Aujourd'hui
Profane Existence
Irregular zine
Anglais
Minneapolis, Minnesota (US)
1990-1998
Apache
Français
Paris
lié au SCALP parisien jusqu'en 1992, autonome ensuite
1991-Aujourd'hui
Alternative libertaire
Revue mensuelle [20]
Français
Paris
Organe d'Alternative libertaire
1992-Aujourd'hui
No Pasaran
Revue mensuelle [21]
Français
Paris
Journal du réseau No Pasaran
1994-Aujourd'hui
SchNEWS
Weekly A4 sheets
Anglais
Brighton (UK)
1995-Aujourd'hui
El Libertario
Journal
Espagnol
Caracas (Venezuela)
1996-Aujourd'hui
Direct Action
Quarterly magazine
Anglais
Manchester (UK)
1996-Aujourd'hui
Perspectives on Anarchist Theory
Biannual magazine
Anglais
Washington, DC (US)
1998-Aujourd'hui
resistance
Monthly bulletin
Anglais
Londres (UK)
2000-Aujourd'hui
Green Anarchy
Quarterly magazine
Anglais
Eugene, Oregon (US)
2001-Aujourd'hui
A Contretemps, Bulletin de critique bibliographique
Revue [22]
Français
Paris
2001-Aujourd'hui
Northeastern Anarchist
Revue [23]
Anglais
Amérique du Nord
Northeastern Federation of Anarcho-Communists (NEFAC)
2004-Aujourd'hui
Gagged!
Monthly A3 sheets
Anglais
South Wales (UK)
2005-Aujourd'hui
Rolling Thunder
Biannual magazine
Anglais
United States
2007-2009
Non Fides
Journal apériodique [24]
Français
Paris
L'impression
Vous ne devriez jamais dépenser des sous pour garnir les tables que vous présentez.
Solutions d'impressions:

Dans les magasins à grands rayons (ex: wall mart), il est possible de payer des imprimantes d'ordinateur, faire 5000 impressions(max. de la cartouche), retourner et se faire rembourser 2 ou 3 jours plus tard.
En faisant du Dump-diving derrière les magasins d'article de bureau, d'informatique, ... on peut souvent trouver des trucs intéressants, et parfois des cartouches d`encres.
Utiliser l'imprimante de son lieu de travail ou de gens riches
Vider les bacs à feuille des imprimantes payantes à la copie (on y trouve souvent aussi des formats page double!)
Faire semblant d'imprimer des curriculum vitae dans un/les centre/s de recherche d'emploi de l'État
Fabriquer son propre imprimerie DIY(projet qui m'a toujours intéressé mais, manque de connaissance)

Sélectionner le matériel de lectures des trucs imprimés pour les rendre courts, mais tout de même intéressants.
Autres ressources intéressantes sur le sujet: Never Pay For Copies, CrimethInc.
La forme
Voie l'article
Le zine est un périodique souvent associé au mouvement Faites-le vous-même. À l'opposé des magazines et des journaux, les zines sont habituellement publiés par un collectif dans lequel tout le monde se partage les responsabilités(plutôt que d'avoir des boulots assignés).
Voir l'article
La diffusion
Affiche - Distro - Infokiosque - Infoshop - Librairies et bibliothèques alternatives
Voir aussi
Presse libertaire francophone
Presse libertaire non-francophone
Références